Bodywork & Movement Training
Bodywork & Manual Therapy
Find relief from pain or injury
"It is truly professional and healing." - Anne Marie, Newtown Square
I

tailor each session to your needs. A typical session is anything but typical and is usually a blend of Deep Tissue, Soft Tissue, Myofascial Release, and trigger point work with adjusted pressure to suite your wants and needs on that particular day. I refer to your sessions as "table work" or "mat work" and my services are priced by time not modality. If it is your first time, a 90 minute session is a good idea. Besides leaving time to make assessments It allows you, the client, to unravel holding patterns and for me, the therapist, to address areas of painful tension while addressing the goal of the session. A 60 minute manual therapy session is usually sufficient to address most issues especially if you get work on a regular basis.
Before We Begin
How is your posture? Are you suffering from neck and back pain? Do you have limited range of motion that is affecting your daily activities? We have the bodies we make for ourselves, good or bad. Each sessions will begin with a preliminary assessment. We will delve into lifestyle, work, hobbies, history of pain, injury and trauma and begin to uncover some of the factors that have contributed to any pain or discomfort you may be having. I will look at your posture and assess imbalances and muscle firing order to get a better understanding of any dysfunction that may be present.
Table Work
Once a goal for treatment is discussed manual therapy can be performed as either table work or mat work. Table work is performed on a massage table. Techniques involved depend on the issues being addressed and each session is customized and tailored to the specific needs and goals of the day. In all my work, I use a variety of modalities including Soft Tissue, Deep Tissue, Myofascial, and Trigger Point.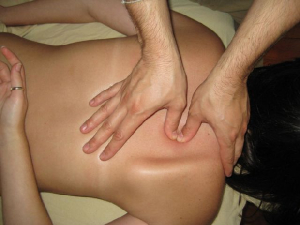 Healing is a process and a patient and nurturing touch is the best path to results.
Bodywork / Manual Therapy
Provide Relief
Manual Therapy has been shown to provide relief from the following disorders:
Back pain

Headache

Muscle pain

Joint pain

Limited Joint Mobility

Chronic Muscle Fatigue

Treatment Choice

Therapeutic Massage may also be considered an important treatment choice for the following conditions:

Anxiety

Depression

Tension

Mental Stress

Insomnia

Arthritis

Carpal Tunnel Syndrome

Fibromyalgia

Headaches

Circulatory Problems

Asthma

Improve Recovery Rate

In addition, Massage is frequently recommended to improve the rate of recovery from injury.

Minor Sports Injuries

Recurring Stress or Repetitive Strain Injuries

Whiplash and Whiplash Associated Disorders
Note: More and more Therapeutic Massage is being prescribed by physicians to complement traditional medical treatments for illness, injury and pain relief . Always seek the advice of your physician before starting any new treatments.
Recommended after treatment care
Drinking plenty of water will help re-hydrate your fascia and maintain your healthy soft tissue. Soaking in a warm bath with Epson or mineral salts will assist in alleviating any soreness.