Bodywork & Movement Training
Traditional Thai Massage
Blending Tradition with Science
"The massages you give are the best I've had." - Linda, St. Davids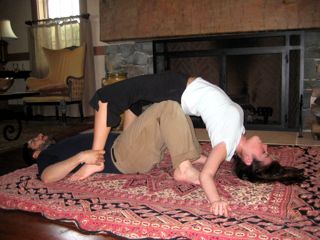 Traditional Thai Massage is one of the ancient healing arts of traditional Thai medicine. It is a massage like no other. The therapist uses a series of palm, finger, thumb, elbow, knee or foot compressions in a rhythmic acupressure-like application along Sen (energy) lines and combines them with passive yoga-like stretching (your body is guided into a stretch thus minimizing your effort). Traditionally these Sen lines were considered 'energy' lines. In modern science, this 'energy' has been defined as 'bioelectric, biomagnetic, biomechanical, and bioacoustic signals moving through collagen fibres, ground substance, and associated layers of water molecules'; in other words Fascia.
I
use a Myofascial approach to this traditional modality. As always, sessions are tailored to the needs of the individual and the goals set out before the session. I will sometimes use Deep Tissue, Soft Tissue, Trigger Point or Myoskeletal Alignment techniques within a Traditional Thai Massage. Traditionally a Thai Massage session could last up to 3 or 4 hours! Today a 90 minute session is typical and the preferred length though a 60 minute session is sometimes appropriate.
It is a powerful approach that leads to many benefits. Muscle tension is reduced, mobility is improved, and a sense of balance and peace is very common. This is an outstanding treatment and few people can accurately describe the bliss they feel afterward. Plan to wear comfortable loose fitting clothing for this session.
60 min - $105

90 min - $140
Provide Relief
Traditional Thai massage has been shown to provide the following benefits:
Increase mobility

Decreased blood pressure

Improved sleep

Relief from Back strain, chronic back pain, low back pain, thoracic back pain

Reduced stress

Improved posture

Enhanced relaxation

Headache relief